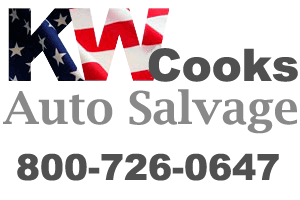 7414 Woolmarket Road
Biloxi, MS 39532

Hours of Operation:
7:30am - 5:00pm
Monday - Friday

Closed Saturday & Sunday
KW Cooks is family owned and operated. We have been serving the Biloxi area for over 20 years. We have multiple stores with over 5000 used cars on hand.

We deal in all makes, models, and years and feature a 90 day warranty on all parts sold.
(800) 726-0647 • (228) 392-4995

Fax: (228) 392-0447